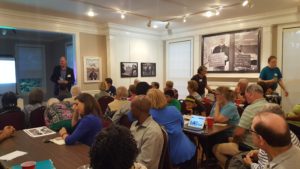 Kennedy Heights Development Corporation (KHDC) hosted an inaugural workshop on October 2, 2018 to share information and invite community feedback on the topic of affordable senior housing. The first of its kind to address senior housing in Cincinnati, the workshop was held at the Kennedy Heights Arts Center and moderated by Clete Benken of MKSK, a Cincinnati-based urban design and planning firm. MKSK this year conducted an extensive housing study in Kennedy Heights in partnership with KHDC's Affordable Senior Housing Advisory Committee. The October 2 workshop was an opportunity to share study findings and encourage an interactive community conversation about housing solutions in the neighborhood.
"We were excited to have a great turnout of 45 people from the community and eager to hear their feedback on senior housing in the neighborhood," said Christine Crowe, KHDC project director. "Certainly, it was obvious how much the community cares about this issue."
The MKSK study revealed that 65% of respondents aged 50 and over prefer to remain in the neighborhood or nearby, as opposed to leaving the Kennedy Heights area for other senior housing options.
Additionally, 73% of White and 79% of African-American respondents indicated a preference to receive services that would allow them to remain in their homes. Sixty-two percent of overall respondents cited declining health, accessibility or home maintenance as factors that would cause them to leave Kennedy Heights in search of other senior housing options.
Workshop attendees were asked to consider organizational and strategic questions, some of which included:
Should available properties along Kennedy and Coleridge Avenues become a focus of the neighborhood's initial housing development and rehab efforts?
Could vacant or underutilized properties on Montgomery Road be redeveloped for assisted senior living and/or workforce living?
What housing development and rehab efforts should be considered for the former Shroder School site on Lumford Place?
Finally, do we have all the right people and organizations at the table? If not, who else should be invited?
Attendees reviewed the findings from the study and discussed the questions above. Their input included:
Ensure that current residents and owners are invited to the table.
Form a relationship building task force to engage current residents and owners of both residential and commercial properties.
Place equal priority on the development or rehab of available properties along Kennedy Avenue, Coleridge Avenue and Montgomery Road.
Explore opportunities for establishment of a grocery store at or near the Montgomery Road/Kennedy Ave corridor.
Workshop attendees were asked to consider the following recommendations for next efforts:
Identify neighborhood seniors and retirees in need of assistance finding affordable housing options in Kennedy Heights. Additionally, these options will provide services directed toward meeting their needs.
Recruit and partner with reputable local rehabbers/contractors to reinvest in apartments and single-family homes that can meet local seniors' needs.
Begin exploring opportunities to redevelop vacant or underutilized commercial properties along Montgomery Road for affordable, mixed-use housing alternatives. These properties could be similar to those being developed in College Hill and Avondale.
Initiate discussions with the City of Cincinnati's Housing and Code Enforcement officials, Cincinnati Police, the Greater Cincinnati Redevelopment Authority, Cincinnati Metropolitan Housing Authority and other agencies. These agencies have experience to address crime and property maintenance issues.
Investigate the potential for the expansion of public and private neighborhood transportation options. These options would increase the mobility of aging residents as well as their families.
Attendees reviewed and discussed the recommendations. Their feedback included:
Update Kennedy Heights Community Council's comprehensive plan with the housing study's recommendations.
Include office space in the business district's revitalization plan.
Offer a citywide event to create interest in Kennedy Heights.
Partner with Kennedy Heights Montessori Center to leverage its ability to attract young families. Develop housing options that could keep young families in Kennedy Heights.
Add emphasis on family/workforce housing in addition to senior housing.
Finally, the cultural campus should have a gateway to create interest, such as an ice cream parlor or a bike station.
"KHDC looks forward to continuing this work with residents and realizing the results of their dedication to cultivating change and growing community in Kennedy Heights," said Christine Crowe.
Click on the link to review a detailed account of the presentations and participants' comments.
Community Results from Housing Study